10.11.12 : Published on Telegraph, T2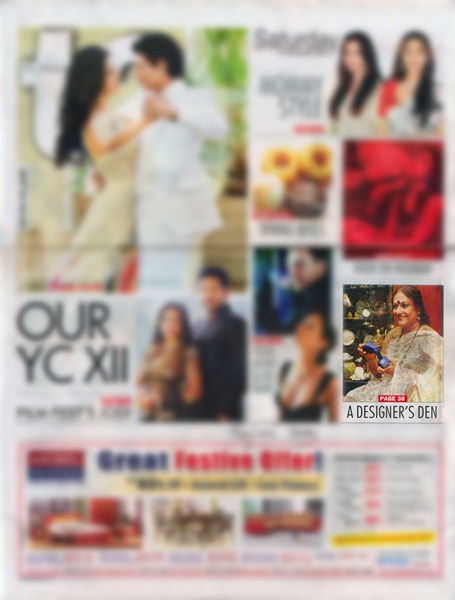 2012 : Published on Telegraph, Bandhan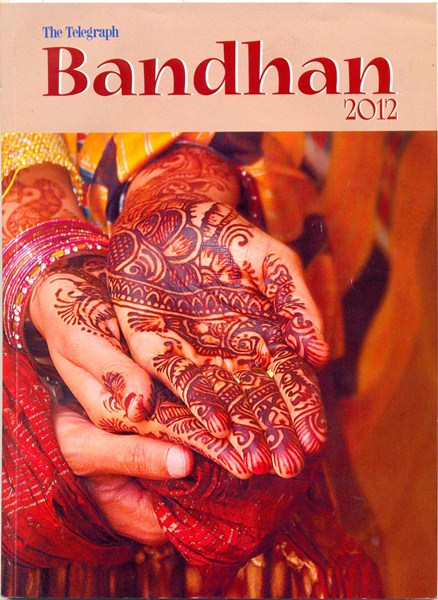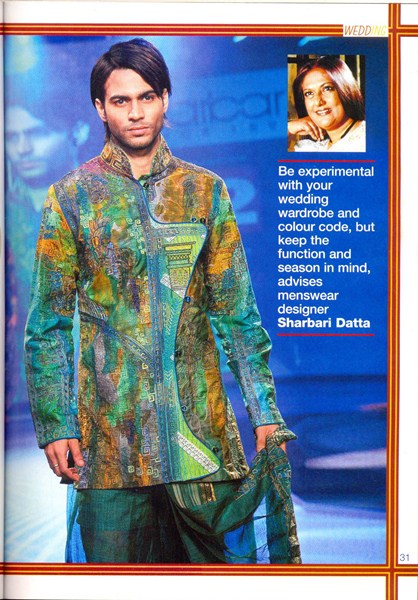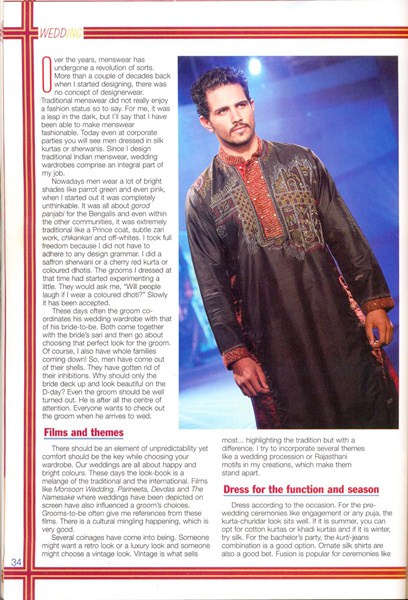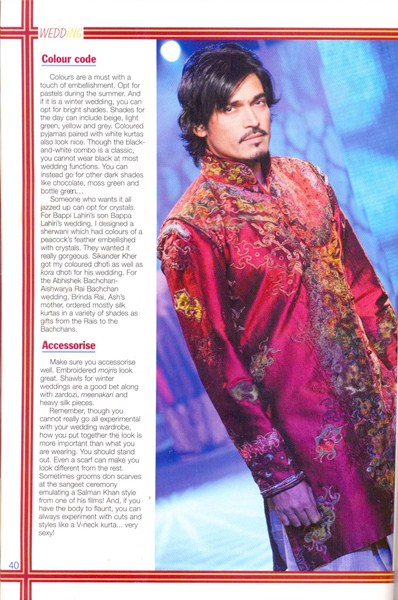 26.11.11 : Published on Telegraph, T2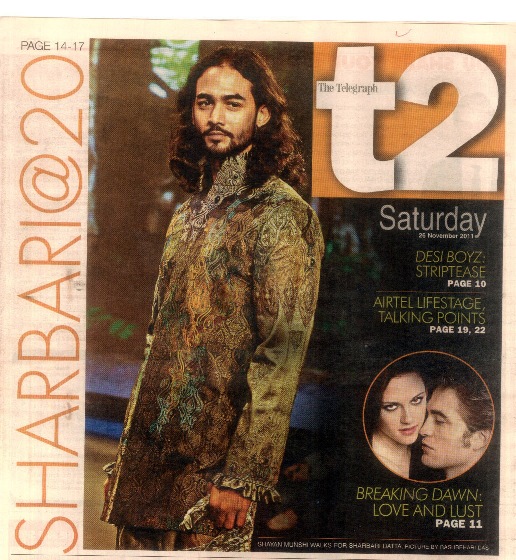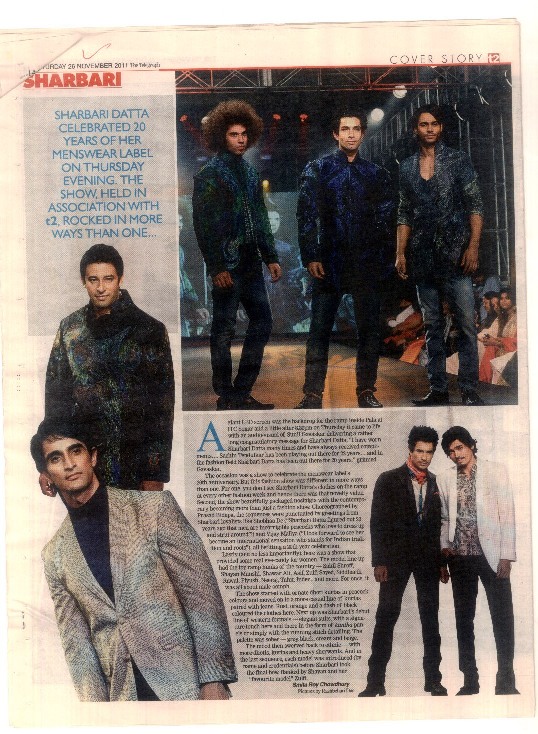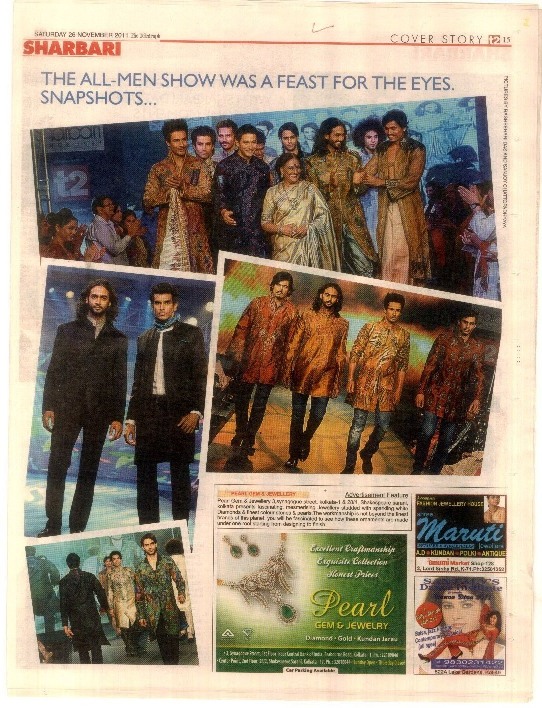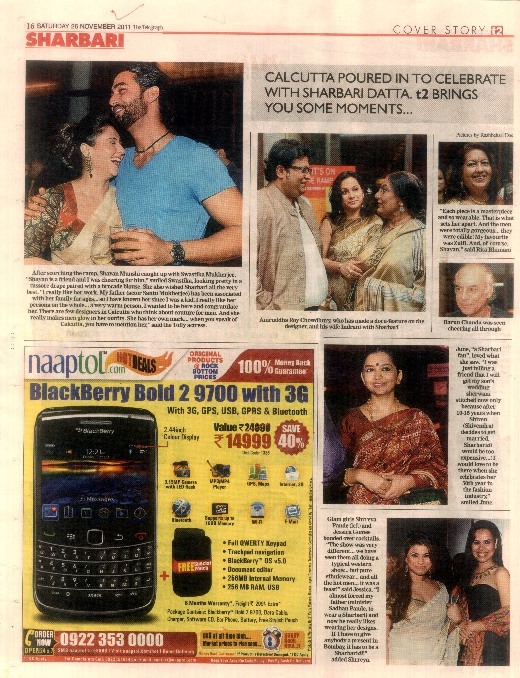 25.11.11 : Published on Telegraph,Metro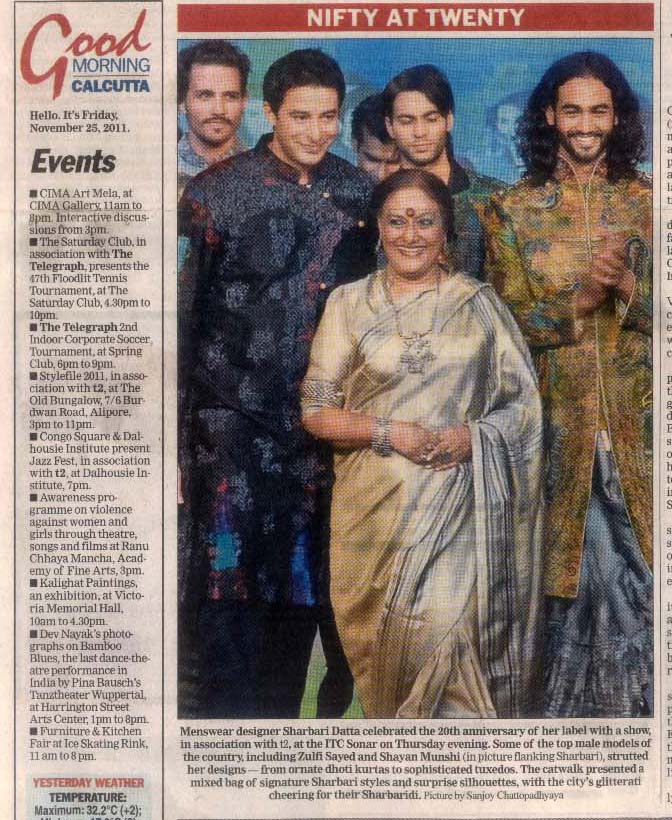 23.11.2011 : Published on Telegraph, T2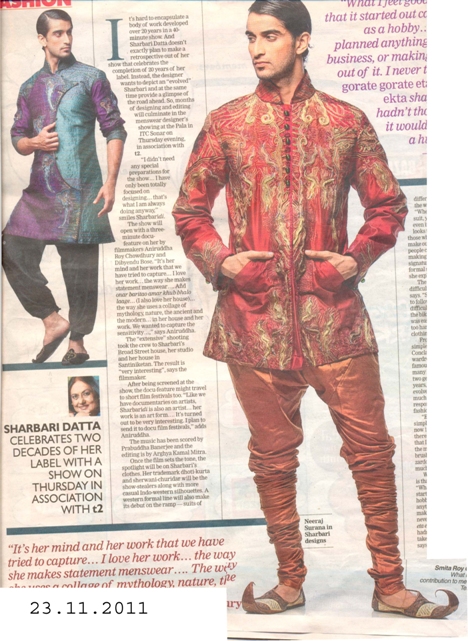 20.11.2011 : Published on Graphiti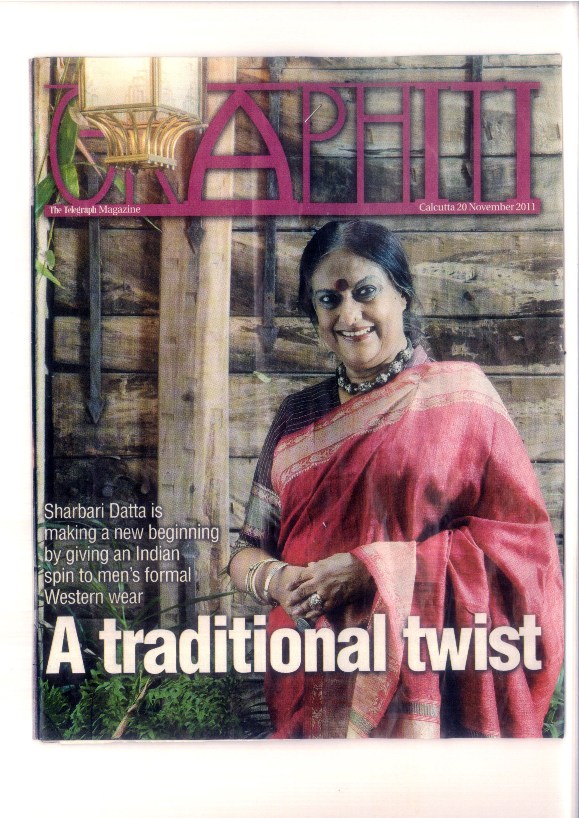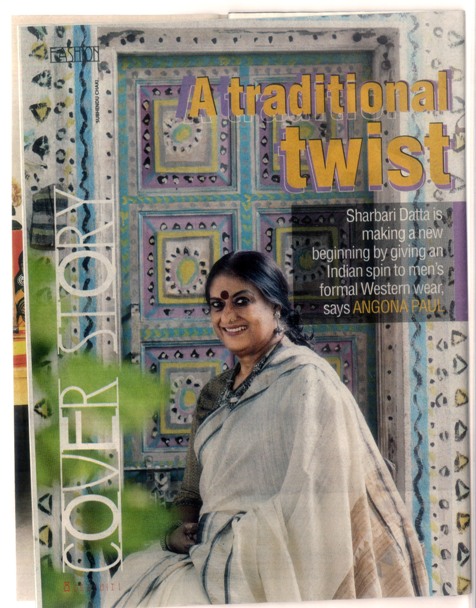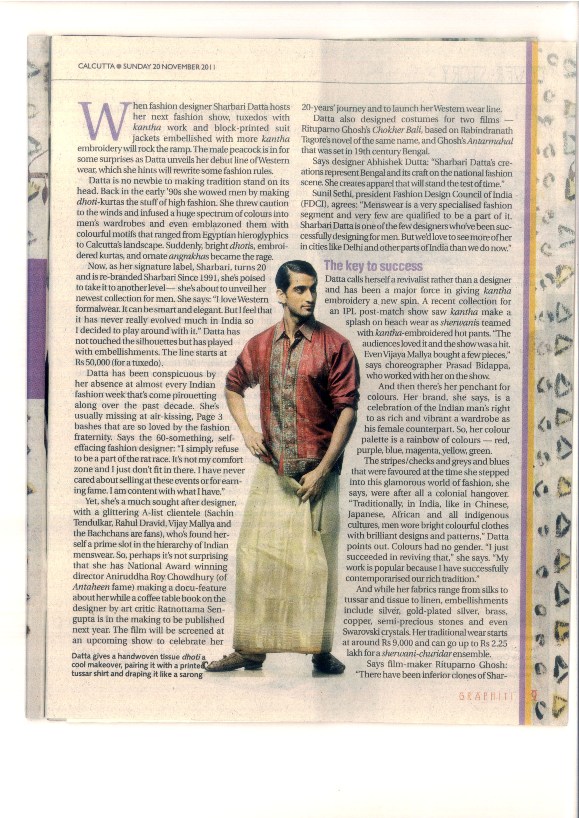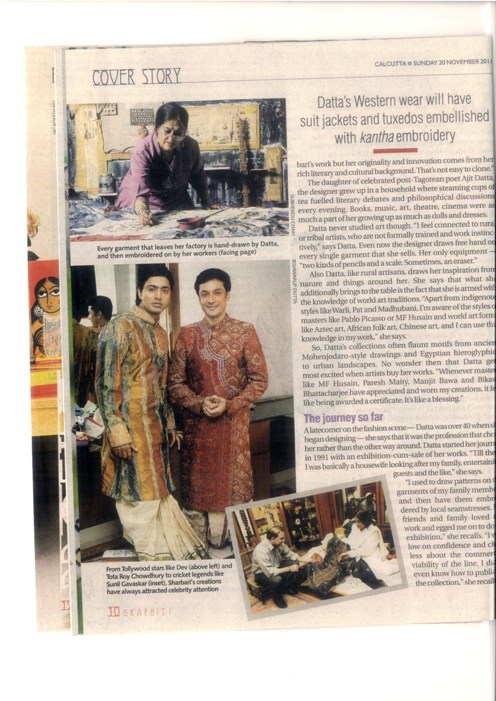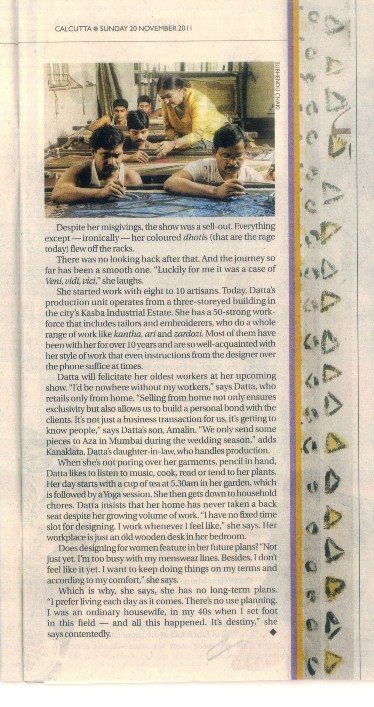 Saturday , August 20 , 2011
DEREK O'BRIEN TAKES HIS RAJYA SABHA OATH IN A SHARBARI DATTA DHOTI-KURTA
For his television debut way back in 1993, Derek 'Brien had decided to don a kurta by Sharbari Datta, then a relatively new name in the national fashion fraternity. For his Rajya Sabha debut on Friday morning, a dhoti-kurta by Sharbaridi was the obvious choice for the quizman-turned-politician.
"I have worn Sharbaridi's kurtas for seven-eight years non-stop for my quiz shows (Bournvita Quiz Contest) on TV. This time, when she heard that I was about to be sworn in at the Rajya Sabha, she said that I must wear one of her dhoti-kurtas," said Derek.
The final look was decided from among 20 designs that the ace menswear designer lined up for him. The chosen outfit comprised a tussore kurta with blackkantha work all over, and an off-white dhoti with a black border.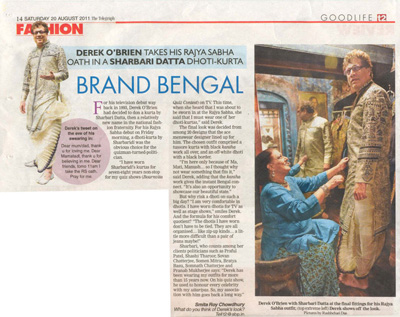 "I'm here only because of Ma, Mati, Manush… so I thought why not wear something that fits it," said Derek, adding that the kantha work gives the instant Bengal connect. "It's also an opportunity to showcase our beautiful state."
But why risk a dhoti on such a big day? "I am very comfortable in dhotis. I have worn dhotis for TV as well as stage shows," smiles Derek. And the formula for his comfort quotient? "The dhotis I have worn don't have to be tied. They are all organised… like zip-up kinds… a little more difficult than a pair of jeans maybe!"
Sharbari, who counts among her clients politicians such as Praful Patel, Shashi Tharoor, Sovan Chatterjee, Somen Mitra, Bratya Basu, Somnath Chatterjee and Pranab Mukherjee says: "Derek has been wearing my outfits for more than 15 years now. On his quiz show, he used to honour every celebrity with my uttariyas. So, my association with him goes back a long way."
Web Link : http://www.telegraphindia.com/1110820/jsp/entertainment/story_14398794.jsp
Thur

sday , January 20 , 2011

Sharbari Datta Looks Back: Two Decades in Design

Web Link : http://www.telegraphindia.com/1110120/jsp/entertainment/story_13464810.jsp
Wednesday , October 21 , 2009
Cricket goes couture
The much-touted inaugural edition of Champions League Twenty20 may have failed to grab eyeballs, but there was one good reason for Calcuttans to tune into the League Stage games last weekend. A design doyen from town was dressing 11 cricket commentators for a Diwali special.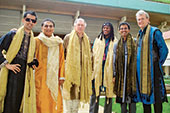 Gautam Bhimani, Sunil Gavaskar, Ian Chappell, Pommie Mbangwa, Harsha Bhogle and Mike Haysman strike a pose in Sharbari Datta creations
Sharbari Datta — who has outfitted everyone from Al Gore to Abhishek Bachchan — added 11 more feathers to her client cap in one go.

"They (ESPN-STAR Sports and the BCCI) called me a week ago to do this for the tournament that is being held in Delhi, Bangalore and Hyderabad," said an excited Sharbari. That meant a real time crunch, but the design veteran managed just fine. The resulting collection of kantha kurtas, uttariyas and churidars was a mix of pieces from her existing collection and some new creations, all originals. "I am told they have liked it a lot and were very excited," she smiled.

Gavaskar, however, is not the only sporting star to have worn her designs before. "It is a long list," she said. Master blaster Sachin Tendulkar, Imran Khan, Shoaib Akhtar, Dilip Vengsarkar, Syed Kirmani, Kapil Dev, Sourav Ganguly, Rahul Dravid, Leander Paes… Phew!
Web Link : http://www.telegraphindia.com/1091021/jsp/entertainment/story_11636743.jsp
Saturday , October 17 , 2009
ETHNIC EDGE

MOM NOT AT HOME? A DO-IT-YOURSELF GUIDE TO WEARING A DHOTI WITHOUT PARENTAL ASSISTANCE

Want to compete with your sari-clad girlfriend or wife for elegance and attention? Dump those work-day trousers, and the easy-to-wear churidars for a dhoti this season. "It's a very classy garment. Just as a sari transforms a woman, making her look different and more elegant, so does the dhoti for a man. I think every man should wear a dhoti on special occasions," says Sharbari Datta, designer. Here's how:
Step 1. Separate the dhoti into two unequal parts — roughly, three-fourths and one-fourth. The longer part should be to your left
Step 2. Wrap the dhoti around you so that you can bring the two sides together in front to tie a knot just below the waist
Step 4. Take the part on your right, gather it, pull it between your legs and tuck it at the back
Step 5: Pleat the remaining length of the dhoti much like you would pleat a sari, tuck it into the waistband and let the bottom part hang.
While this is the most basic way of wearing a dhoti, it too can be draped in different ways. The pleats on the left can be tucked into the pocket or held in the hand. "The most difficult part is identifying the border and which side goes up. If you buy a new dhoti from the market it is usually pleated and thus easier to understand," explains Sandy, stylist. The para dhobi can also be asked to iron it in a way that makes it easier to pleat.

"Another way of wearing the dhoti is by drawing the left side also from between your legs and tucking it at the back. This is a more rustic way of wearing it, but it does look cool. And it's easier to carry as well," suggests Datta. The traditional Bengali look is the "dhakka paar" or broad-bordered, cotton dhoti in beige. But Sandy suggests a silk dhoti for a slim and uber cool look. Other kinds of dhotis are also in vogue. "I get a lot of buyers for the narrow-bordered, coloured, south Indian dhotis," says Datta. For coloured dhotis, black and rich maroon are the two colours most in demand. Sandy also votes for a shibori-dyed dhoti for a trendy look. Or go for a tissue dhoti for a dressy look.

On the subject of what to wear with your dhoti, nothing works better than a "dhuti-panjabi" for the Bangali babu during festive times. But if you want to try out something different, go for an angarkha, a la Shah Rukh Khan in Paheli, suggests Datta. Or wear a short achkan with your dhoti. "For that, though, you'll have to wear a silk dhoti, so that it doesn't look voluminous," explains Sandy. Complete the look with a mul chador, draped casually over your arm. A brocade bordered chador will lend a designer touch to the outfit.

Keep the shoes traditional — mojris or leather sandals. But no flip-flops, or floaters please! Not even if it rains.

"Wear your dhoti with confidence. If you look uneasy or nervous wearing it, you'll spoil the look," cautions Datta.

P.S. If you are still not confident, try tying a belt over the dhoti and covering it with your kurta. Or pick up a pre-stitched dhoti.
Web Link : http://www.telegraphindia.com/1091017/jsp/entertainment/story_11624143.jsp
July 2001
"… the housewife who has taken Indian fashion by storm: Sharbari Datta. What started as a pocket-money-pastime a decade ago. Soon became a niche industry. Sharbari's kurtas, uttariyos and sherwanis occupy pride of place in many a wardrobe ranging from those of Bikas Bhattacharya and Leander Paes to Jackie Shroff and Mithun Chakraborty. She then moved on to the alien market of jewellery for men and here too, in a couple of years she has struck gold.
Earlier this month she received the Accessory Designer of the Year honour at the Kingfisher fashion Awards 2001 in Bangalore. With Vijay Mallya, the King of Good Times, intending to give the Awards an 'Oscar' status, Sharbari was up there with the best that India has to offer…"

September 1996
Her work is a celebration of the male ego. Pampering their sartorial desires, Sharbari Datta has redefined the concept of male attire.
Asperhaps the city's and the country's first male couturier, her designs, both ethnic and chic, blend the classical with the modern, the romantic with the real, fusing fantasy with fine art.
...She does not like being called a fashion designer abhorring stereotypes of any sort. But what Sharbari creates, becomes fashion, thanks to her wearers. As the big time beckons her, one wonders whether Sharbari will preserve her exclusivity or make a splash in the effervescent world of designer fashion.

September 2003
Male Order
...And true to her word, Sharbari's new collection left everyone spell-bound with the sheer artistry and elegance of the designs. Veering off her trademark flamboyant colour palette, Sharbari dressed hunks such as Aryan Vaid, Inder Mohan Sudan, Zulfi Syed and Rajiv Singh in traditional ensembles taking in everything from the dhoti and kurta to the achkan, sherwani, firan, angrakha and bandhgala in colors such as beige, cream, ash, peach and black.Fabrics such as matka silk, raw silk, tussar, muga and garad were embellished with intricate kantha embroidery. …With each ensemble being one-of-a-kind, the hard work that goes into them was more than evident as design after design rolled on to the ramp, each more exquisite than the other.